Hotels to remember: Locorotondo
Locorotondo: introduction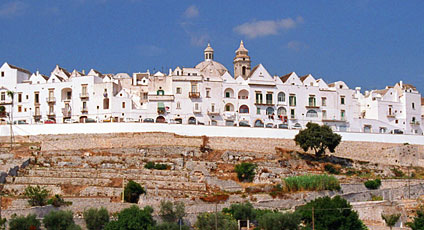 Situated on the high plain of the Eastern Murge, Locorotondo overlooks the entire valley of Itria, with a panorama which encompasses the traditional Trulli houses scattered among the olive trees and the grape vines.
There are a number of spectacular sites in Loorotondo, including the Trito, San Marco, Tagaro and Serra districts, Villa Basile Caramia, palazzo De Bernardis, the oldest Trullo of the Marziolla district, the characteristic lanes or "cummerse" and the beautiful Zuzù area.
The town hosts a number of events including the festivities in honor of the Patron Saint San Rocco and a whole series of gastronomic fairs. Locorotondo, has in fact, great gastronomic traditions.
Local produce includes Extra Virgin Olive Oil and the Wines of the Itria Valley, the most prestigious of which is the Bianco Locorotondo.
Locorotondo: suggestions from the hotels
Daniele Capriglia
(Titolare)
Small Boutique Hotels

Ostuni is the ideal place because of its centrality in relation to the rest of Puglia, a few minutes drive from major destinations. (Masseria Salinola) →
Locorotondo: gourmet addresses
More suggestions and useful addresses
Locorotondo: places to see in the area