Hotels to remember: Manfredonia
Manfredonia: introduction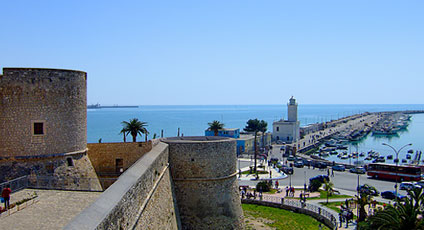 Situated on the Gulf, the port of Manfredonia is the gateway to the Gargano. Manfredonia has been inhabited since the times of the Dauni's civilization. Today tourism is important to the economy and there are modern bathing resorts such as Siponto Lido dotted all along the coast line, with its fine sandy beaches. Agricultural production and the fishing industry continue to contribute greatly to the wealth of the town.
Among the sites of interest: the Castle Svevo Angioino, the National Archeological Museum of the Gargano, the Church of St Francesco, the Church of St Domenico, the Abbey Church of St Leonardo and the Cathedral of St Maria Maggiore which houses the splendid Madonna degli occhi sbarrati, worshipped by the faithful of Manfredonia.
There are many religious celebrations, such as the Procession of St Lorenzo, the Via Crucis, the Procession of the Madonna del Carmine, the Procession towards the sea of St Andrea, the Procession of St Francis of Assisi. The popular festivals should not be missed, events such as the town's fairs.
Manfredonia: suggestions from the hotels
Annalisa Nullo
(proprietaria)
B&B and Homes

Manfredonia: gourmet addresses
More suggestions and useful addresses
Manfredonia: places to see in the area