Hotels to remember: Taranto
Taranto: introduction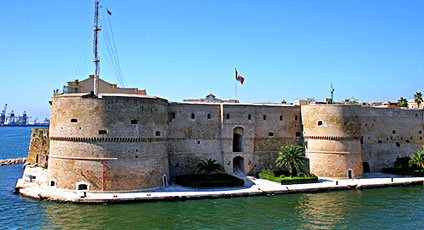 Taranto is a city which is a mixture of ancient and modern; with an old town, and an industrial area of recent construction. The city, which looks out across the Ionic Sea, has always been important because of its position and also because of the port, part of which is today a military base.
The symbol of Taranto is its historic turning bridge which unites the old and new town. The landscape seen from the higher areas of the city is captivating, with a panorama which stretches from the Calabrian mountains to the Cheradi islands. For those who love the sea, Taranto promises white sandy beaches and crystal clear waters, along kilometers and kilometers of untouched coastline.
To visit: Palazzo del Governo, constructed on the site of the ancient Alhambra, the National Archeological Museum, the Museum of Taranto underground and the Natural History Museum. Traditional events held in the city include the Taranto Palio, Easter Monday Tango a Taranto, and the Sunday Market.
Taranto: suggestions from the hotels
Marilisa Duggento
(Responsabile Marketing)
4 Star Hotels
This area of the Ionian coast of Salento, has all the typical features of Pure Puglia: clear sea, wild nature, centuries old culture, excellent wine and food, peacefulness and relax. (Masseria Le Fabriche) →
Taranto: places to see in the area