Hotels to remember: Manduria
Manduria: introduction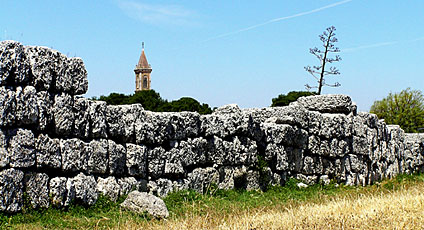 A well out of which an almond tree appears. This centuries old construction, in the heart of the town's historic center, has become the symbol of Manduria, ancient town situated on Puglia's Ionic coast.
The "Fonte Pliniano" testifies to both the presence of the messapic population who inhabited southern Puglia from the 8th century B.C. onwards, and the visit to the town by "Plinio the Old": the famous Roman historian who mentioned the well in his "Historia naturalis" and after whom the structure was subsequently named.

Another symbol of this old Puglian town is the Primitivo di Manduria: the much appraised red wine produced here. A masterpiece of Romanesque architecture, the town's Cathedral features an immense entrance door to each side of which there is a statue of a lion, originating from the medieval church which previously occupied the site.
The Cathedral is by no means the only house of worship in Manduria, a town considered sacred for the surprising quantity of churches, convents and religious orders to be found within the walls of its historic center.
In the Ghetto of Manduria there are the signs of the thriving Jewish community which once lived here. Then there is the stunning Palazzo Imperiali overlooking Piazza Garibaldi: the one and only example of Puglian Baroque architecture in the town.
Manduria: suggestions from the hotels
IONIAN TRAVEL
(Responsabile Commerciale)
4 Star Hotels

Springtime in Salento allows you to enjoy mild temperatures. It's possible to take long walks or bike through the olive groves and taste the typical traditional sweets, such as "zeppole of St. Joseph." (Masseria Relais Santa Teresa) →
Marilisa Duggento
(Responsabile Marketing)
4 Star Hotels
This area of the Ionian coast of Salento, has all the typical features of Pure Puglia: clear sea, wild nature, centuries old culture, excellent wine and food, peacefulness and relax. (Masseria Le Fabriche) →
Manduria: places to see in the area