Hotels to remember: Barletta
Barletta: introduction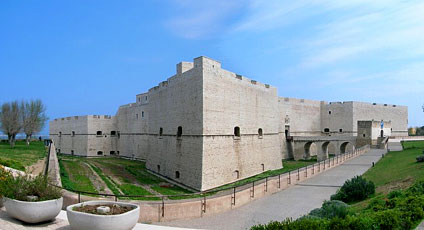 Also known as the City of the Challenge, Barletta is a thriving agricultural and industrial town situated within Puglia's Murgia area. Positioned on the coast and lapped by the Adriatic sea, Barletta has been inhabited since the 2nd century B.C., as can be testified by a number of ancient tombs found here. In the Roman period, Barletta was known as Bardali, Baruli or Bardulos. It was in the Norman era that the economy of the town began to flourish.
On February 13th 1503, during the war between France and Spain, the famous "Challenge of Barletta" was held, won by the knights commanded by Ettore Fieramosca. In the center of the town lies the Cantina della Disfida, where to see the 4,5 meter high bronze statue of the Giant of Barletta, originating from Constantinople.
Not to be missed: the Cathedral built in honour of Santa Maria Maggiore and one of Puglia's four Palatine basilicas. Also worthy of visit is the town's magnificent Federician Castle. Inaugurated in 2007, the Giuseppe De Nittis Art Museum is situated within the Palazzo della Marra, a fabulous venue where to admire works by the local impressionist artist.
Barletta: places to see in the area