Hotels to remember: Alberobello
Alberobello: introduction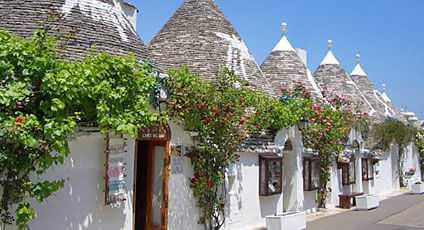 Tourists come to Alberobello from all over the world to see its unique urban landscape. The town has become famous internationally because of its "Trulli", cone shaped houses constructed in stone blocks known as chiancole.
Alberobello is sited on two hills, divided by a river. The Western hill is the oldest part of the town and here the largest number of Trulli can be found.
The old town is divided into two districts, Aia piccola and Monti, which are of national importance and have been granted special status by U.N.E.S.C.O. Profuse greenery, olive and almond trees cover the hillsides. Craft industry is particularly important, with all types of traditional products being made.
Not to be missed: the itinerant market, held every Thursday morning and the Saturday afternoon market, held in the Coreggia district. On Wednesday and Saturday evenings the town's butchers organise the Fornello pronto, a delicious barbecue. The celebrations for the Patron Saints Medici Cosma and Damiano are well worth attending.
Alberobello: suggestions from the hotels
Daniele Capriglia
(Titolare)
Small Boutique Hotels

Ostuni is the ideal place because of its centrality in relation to the rest of Puglia, a few minutes drive from major destinations. (Masseria Salinola) →
Alberobello: gourmet addresses
More suggestions and useful addresses
Alberobello: places to see in the area