Hotels to remember: Bari
Bari: introduction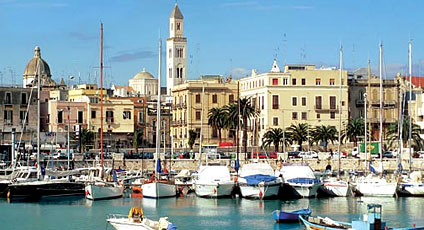 Bari is the most important city of the Puglia, the region's capital city and a vibrant commercial center. The city is situated to the South East of the Ofanto river, on the coast of the Adriatic Sea, with a port which links Italy to the East. Even today the historic trade fair the Fiera del Levante is still an important national event.
Corso Vittorio Emanuele divides the old city of Bari from the new town. Interesting monuments to visit include the Basilica of St Nicola, the Svevo Castle of Ferdinando II, the San Nicola harbor, the Provincial Archeological Museum, the Cathedral Museum and the Provincial Art Museum of Bari.
With its great maritime traditions, the fish cuisine has to be tasted with marvelous sea food best savoured in the "nderre a la lanze" area.
Gastronomic traditions include local specialties such as the "'ncapriata", lamb, "orecchiette", "melanzanata", and not forgetting, of course, the famous extra virgin olive oil.
More suggestions and useful addresses
Bari: places to see in the area