Hotels to remember: Nardò
Nardò: introduction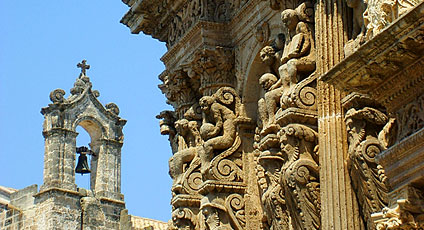 An ancient town with an artistic heritage of incalculable worth, Nardò is home to some of the finest examples of Puglian Baroque architecture.
In the heart of Salento, and just a few kilometers away from the Ionian sea, this part of Puglia has been inhabited since pre-historic times. The town was founded around about the 8th century B.C. by the Messapic population who gave it the name of Nerito (from the Greek "Nar", or water).

The Romans were particularly enamoured by Nardò and they made sure their important Via Traiana road passed by here. In the 16th century the Aragons built the town's castle, but it was Giovanni Maria Tarantino, undisputed genius of the Barocco Leccese, the man responsible for the architectural masterpieces which today attract thousands of tourists to Nardò each year, including the splendid Church of San Domenico.
The most spectacular of Nardò's sites has to be the Piazza Salandra, one of the most beautiful squares in the whole of Italy, complete with ornate 18th century column dedicated to the Immaculate Conception at its center. Here the façades of the churches and palazzi appear as if chiselled by master goldsmiths.
Nardò: suggestions from the hotels
Marilisa Duggento
(Responsabile Marketing)
4 Star Hotels
This area of the Ionian coast of Salento, has all the typical features of Pure Puglia: clear sea, wild nature, centuries old culture, excellent wine and food, peacefulness and relax. (Masseria Le Fabriche) →
Sergio Positano
(Amministratore)
Small Boutique Hotels

Stay at Palazzo Guglielmo to experience an authentic slice of life in Puglia. The 14/09/13 the Daily Telegraph has selected Palazzo Guglielmo four of the best places to stay in Puglia in Puglia. (Palazzo Guglielmo) →
Anna Addario
(Proprietaria)
Farmhouse Holidays

La macchiola is the best location where to discover the historical heritage of the south and where you can taste the real Salento food (La Macchiola) →
More suggestions and useful addresses
Nardò: places to see in the area