Hotels to remember: Santa Maria di Leuca
Santa Maria di Leuca: introduction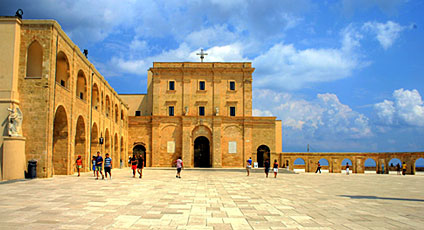 In Greek "Leukos" means white, and this was how the town situated on the southern most point of the Salento appeared to the Greek sailors approaching the Puglian coast many centuries ago. The rest of the town's name has slightly more recent origins: legend has it that San Pietro chose the town as location from where to initiate his evangelical work, and thus added the Virgin's name.
Situated in a stunningly beautiful bay, between Punta Ristola and Punta Meliso, Santa Maria di Leuca is one of the Salento's most visited towns; a popular destination for lovers of the sea and, in particular, divers keen to explore the numerous underwater caves which characterise this stretch of coast.

In the center of the town, an impressive flight of steps leads down from the Basilica to the aqueduct inaugurated by Mussolini during the fascist era. It is, in fact, in Santa Maria di Leuca that the monumental aqueduct delivering water to the whole of Southern Italy has its outlet. On rare occasions, a dramatic display of Puglia's "blue gold" can be seen as the water of the aqueduct is released in to the sea.
Santa Maria di Leuca: suggestions from the hotels
Anna Addario
(Proprietaria)
Farmhouse Holidays

La macchiola is the best location where to discover the historical heritage of the south and where you can taste the real Salento food (La Macchiola) →
Beatrice Longo
(Commercial consultant)
Resort

At Vivosa Apulia Resort you will find a modern All Inclusive offer, relax, comfort and funny activities for adults and children. A natural pine forest is all that separates the resort from the turquoise Ionian Sea and its gold-sanded beach. (Vivosa Apulia Resort) →
Sergio Positano
(Amministratore)
Small Boutique Hotels

Stay at Palazzo Guglielmo to experience an authentic slice of life in Puglia. The 14/09/13 the Daily Telegraph has selected Palazzo Guglielmo four of the best places to stay in Puglia in Puglia. (Palazzo Guglielmo) →
Santa Maria di Leuca: places to see in the area