Planet rock
The Grottoes of Castellana: Puglia's amazing karst complex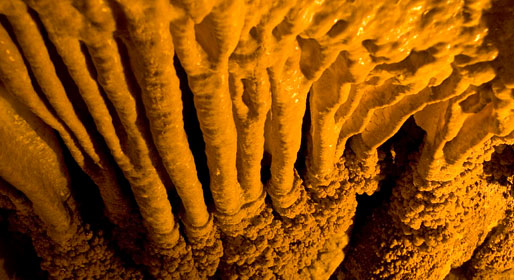 Above, rolling hills and ancient olive groves; below, a forest of stalactites.
The Grotte of Castellana are located in Puglia on the high plain of southeast Murge, just 11 km from the sea and 40 km from the city of Bari

Puglia's realm of rock
It was the Italian speleologist Franco Anelli who first made his way into the depths of the Grotta Grande, back in 1938.
The recent discovery of two additional cavities, the Grotte dell'Abate Eustasio, has drawn even greater numbers of professional potholers and curious tourists to a karst complex, which, with its incredible variety of rock formations, is the largest and by far the most spectacular in the whole of Italy.
A forest of stalactites and stalagmites, an intricate maze of intersecting galleries, grottoes and caverns: the mysterious underground world of the Grottoes of Castellana

Grave digging
Visitors access the karst complex via the "Grave". The Grotta Grave, at the center of which there is a group of colossal stalagmites known as the "Cyclops", is filled with rays of light which enter the cave via the circular opening.

From the Grotta Grave, visitors head deeper underground following one of two itineraries, of 1 and 3kms respectively, accompanied by a guide.
As they make their way amidst the stalactites and stalagmites, visitors are introduced to numerous caverns, from the Black Cave to the Cave of Monuments, from the Corridor of the Angel to the Cave of the Precipice.
The visit to the Grottoes of Castellana draws to a close in the White Cave, a fairytale environment filled with natural sculptures in glimmering alabaster.
Hell in the cave
The Hell in the Cave multimedia show is performed on various weekends throughout the year.
For the occasion, the caves are transformed into a surreal, Dante-esque landscape in which actors and dancers interact with the lights, sounds and videos projected onto the rock walls.
The underground performance of Dante's "hell" is staged in the Grotta Grave, the mouth of which resembles the "pertugio tondo" (round hole) cited in the Divine Comedy.
Put it in your diary... or on your smartphone

Grotte di Castellana
Castellana - Bari
Tel: +39 080 4998221
www.grottedicastellana.it