Hotels to remember: Lecce
Lecce: introduction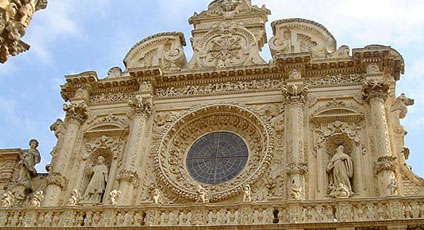 Lecce is the capital of the Salento because of its geographical position in a the region looks out over both the Ionic and Adriatic Seas. Known as "the Florence of Baroque", Lecce has a wealth of architectural monuments in Baroque style, with gargles, portals and monuments made from Pietra Leccese, an easily crafted gold colored stone.
There are number of sites which will interest art enthusiasts, such as the Church of St Croce, Piazza St Oronzo, the Column of St Oronzo, Porta Napoli, Lecce Cathedral, the Mazzini district. Then there is the Roman Amphitheatre, The Greek Amphitheatre, the Obelisk, Palazzo Celestini, Palazzo Carafa, the Church of St Matteo, the Carlo V Castle, the Teatini Church, Piazza Duomo.
The unusual red colored soil, typical of this area, can be seen in the surrounding countryside. The cultural life of the city encompasses all fields from music to theatr, not to mention the numerous activities of the University. Lecce offers visitors the chance to glimpse ancient history in a dynamic modern context.
Lecce: suggestions from the hotels
Anna Addario
(Proprietaria)
Farmhouse Holidays

La macchiola is the best location where to discover the historical heritage of the south and where you can taste the real Salento food (La Macchiola) →
IONIAN TRAVEL
(Responsabile Commerciale)
4 Star Hotels

Springtime in Salento allows you to enjoy mild temperatures. It's possible to take long walks or bike through the olive groves and taste the typical traditional sweets, such as "zeppole of St. Joseph." (Masseria Relais Santa Teresa) →
Sergio Positano
(Amministratore)
Small Boutique Hotels

Stay at Palazzo Guglielmo to experience an authentic slice of life in Puglia. The 14/09/13 the Daily Telegraph has selected Palazzo Guglielmo four of the best places to stay in Puglia in Puglia. (Palazzo Guglielmo) →
More suggestions and useful addresses
Lecce: places to see in the area