Italian Theaters
Opera houses in Milan, Parma, Naples, Bari and Palermo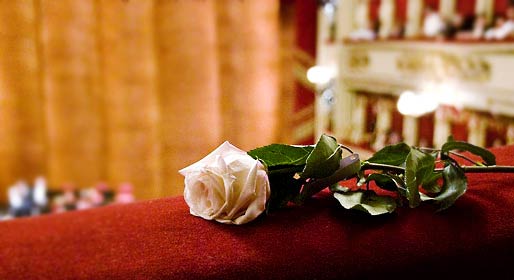 Elegant emblems of the great cities in which they are located, Italy's historic theaters are the perfect expression of the country's centuries-old love affair with the performing arts. The Italian Theater is a precise architectural concept which was developed between the 18th and 19th centuries. At this time the traditional terraced stalls of the country's playhouses were replaced by horseshoe shaped auditoriums and several tiers of boxes, the latter differentiated in order of its expected inhabitants' importance. The construction of the theater thus reflected the social hierarchy of Italy: the auditorium was destined for use by the middle classes, the boxes were reserved for the upper classes and titled aristocrats who considered them their own private spaces, in which to do more or less as they pleased.
For Milan, each "prima" at the city's Teatro alla Scala is still a much-awaited event and to dance at the Scala is for, many aspiring ballerinas, still their greatest ambition. The theater, situated right in the heart of the city, first opened its doors in 1778. The theater was founded by the Empress Maria Teresa of Austria, who enlisted the services of Giuseppe Piermarini, master of the neoclassical style, to construct a theater to replace the Royal Ducale Theater, which had been irreversibly damaged by fire. More than two centuries after its triumphant opening, the Scala is still associated with the world's best Opera, Classical Music and Ballet companies. The theater's Ballet School, founded in 1813, is the jewel in the theater's crown. The Scala's Theater Museum houses a fascinating collection of antique instruments and musical scores and an impressive library containing over 120.000 books. In 2002, the theater was the subject of a radical restructuring by the architect Mario Botta which included the addition of a large "torre scenica" or fly tower. (www.teatroallascala.org)
La Scala Theater & Museum
Put your ruffled collars on for changing opera and theater-related exhibitions.
Get your tickets now!

The inhabitants of Parma consider the Teatro Regio to be one of their city's most important institutions and there are those who are prepared to queue all day and night outside the ticket office for one of the theater's highly prized season tickets. The Regio di Parma, which opened in 1829, was built under the auspices of the Duchess Maria Luigia. The royal theater was one of the very first playhouses to adopt a gas lighting system and the Parisian-built, great bronze chandelier, the "astrolampo", is still in perfect working order. Today, the theater is considered the home of Italian melodrama and the seats of its "loggione" (the gods) are occupied by an expert and reputedly severe audience, capable of deciding the rise or fall of the opera singers who perform here. Every October, since 2004, the theater has hosted the much-acclaimed Verdi Festival, in honor of the city's great musician. (www.teatroregioparma.org)
The oldest working theater in Europe, Naples' Teatro San Carlo was built by the Bourbons in 1737 to symbolize the power of the city's rulers. Since its first opening, the theater has been rebuilt on various occasions, each time reflecting the changes in architectural fashions. In 1812 the theater opened its Dance Academy which, to date, has received the Abbiati prize (the most prestigious music award in Italy), on six occasions. In addition to its impressive operatic repertoire and the reproduction of a number of almost forgotten 19th century masterpieces, the Teatro San Carlo has, for years, been involved in an important restoration of Naples' 18th century comic opera, "opera buffa", in collaboration with the Maestro Roberto de Simone. (www.teatrosancarlo.it)
Eighteen years after the act of arson which burnt the edifice to the ground, Bari's Teatro Petruzzelli reopened on October 4th 2009 with a highly acclaimed Beethoven's Ninth Symphony. The theater was built in 1903, and was constructed by two shipbuilders from Trieste with the intention of creating a symbol of the greatness of Southern Italy. The recent restoration was inspired by the same spirit. To recreate those features of the building which were completely destroyed by the fire, before the start of each and every show, images of the theater's lost frescoes are projected onto the domed ceiling, to the sound of Maria Callas singing "Casta Diva". (www.fondazionepetruzzelli.it)
Construction of Palermo's Teatro Massimo began in the immediate aftermath of the unification of Italy, with the intention of creating an edifice which would best represent the artistic splendor and political importance of Palermo and, as a consequence, Sicily. The theater, inaugurated in 1890, was designed by the architect Giovanni Battista Filippo Basile in high neoclassical style with the addition of elements inspired by the Greek temples of Selinunte and Agrigento. The auditorium, originally designed to house up to 3000 people, has been restructured and now offers a seating capacity for 1350 spectators. A staggering seven tiers of boxes rise up around the inclined stage. Movie fans may well recognize the theater as having provided the dramatic set for the closing scenes of Francis Ford Coppola's "Godfather Part III". (www.teatromassimo.it)