Bellavista Suite
(B&B and Homes) Monopoli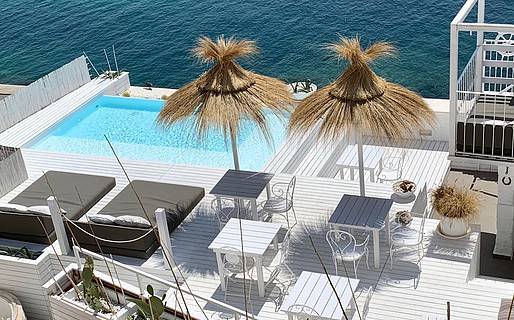 From € 140.00
Dream holidays carved in stone...
Three reasons why you'll love it here

A pool in your room and the sea on your doorstep: Luxury Suites
A dip in the plunge pool, overlooking the sea of Monopoli
A B&B with the services of a luxury hotel!
If you like your luxury, but would rather not share it with a whole hotel-load of guests, you'll love Bellavista Suite: an intimate and surprisingly sumptuous B&B in Puglia.
Suites made of stone
No ordinary bed and breakfast, Bellavista Suite is a highly original boutique hotel, created inside the walls of Monopoli.
Yes, that's right: inside the walls of the Monopoli! The B&B's four suites lie, as if carved out of the stone, inside the city's massive 16th century perimeter wall.
In-room pool with hydromassage and counter current swimming, chromotherapy, circular king size bed and the sea on your doorstep: Luxury Suite - where dreams come true

Jacuzzi bathtubs, king size beds, memory form mattresses and pillows, Wi-Fi, room service, and huge flat screen televisions are standard in all four suites and, from every window, balcony and terrace, you'll be treated to breathtakingly beautiful views of the sea.
Dream holidays made in Monopoli
You're relaxing on the sun-drenched terrace, directly above the sparkling Mediterranean sea, floating in the plunge pool or snoozing on the canopied daybed.
You're slowly sipping your favorite drink, contemplating the view which encompasses the entire stretch of Puglia's Adriatic coast.
No, you're not dreaming, you're at B&B Bellavista Suite; enjoying a holiday in Puglia which is destined to remain in your memory, and your heart, for a very, very, long time...
The sunset aperitif on Bellavista Suite's terrace is a much-loved ritual which you'd be foolish not to observe!

Bellavista Suite amenities
Outdoor facilities
Swimming pool
Beach
Private beach
Rooms
Internet connection
Free Wi-fi
Air Conditioning
Room service
Minibar
Kettle
TV
Satellite TV
Hair dryer
Bathroom with hydromassage bath
Room with private pool
Wellness
Food and drink
Various
Laundry
Shuttle service (airport / city center / beach)