Drinking partners
Discovering the wines of Salento in the cellars of Castel di Salve.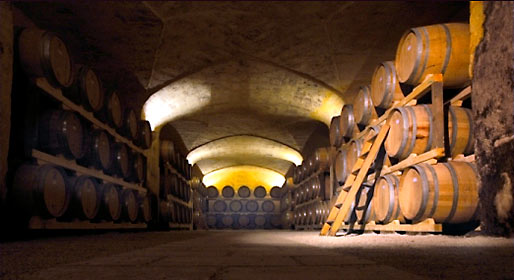 Castel di Salve is a place which represents the dynamism of Salento. Here, since 1992, a number of Puglia's finest wines have been produced, the result of a shared passion, a common vision, and a friendship born many years ago amongst the grapevines. Francesco Winspeare has lived in his family's baronial castle in Depressa (near Tricase), deep in the heel of Italy, since his early infancy and despite being a keen traveler, with a cosmopolitan outlook, his heart belongs to Salento. The connection with the red earth of this part of Puglia is a family trait, so it is not by chance that his brother, the acclaimed director Edoardo Winspeare, has featured the land and traditions of Salento in more than one of his films, including the most recent Galantuomini (2008).
Francesco Marra is both Winspeare's agronomist and childhood friend. When the pair were still practically babes in arms, they made a solemn promise that they would one day make wine together. In 1992, the pair decided to realize their dream, starting with 40 hectares of family vineyard and some very clear ideas about the wines they would produce from it.
The first of these aims was to make a wine exclusively with the grapes cultivated on the estate: high quality, but still surprisingly under exploited, indigenous grapes. The second (in stark contrast with the widespread tendency in the area to make what Winspeare defines over-mature wines), was to emphasize the personality of each wine, preserving their freshness and fruity notes. Castel di Salve's reds are, in fact, young, clean wines, in both taste and color.
The grapes preferred by Marra and Winspeare are the indigenous species of Salento: Negroamaro, Primitivo and Malvasia Nera di Lecce: cultivated in three diverse terroirs within the province of Lecce (these vineyards can all be visited, by appointment). The two wine makers are among those Puglians responsible for the rebirth of a region which, in recent years, has experienced a veritable tourist boom, attracting many visitors with its dramatically beautiful landscapes, age old traditions, and excellent food, the latter now accompanied by any number of superlative, locally produced wines.
The cellars in Depressa, with their magnificent cross vaults in Lecce stone, are a fine example of how good accurately restored industrial architecture can look. Today, the cellars are visited by wine enthusiasts from the whole world over, who are welcomed in the tasting room before being accompanied on a tour of the cellars, during which they can see each and every phase of the vinification process, concluding with the antique barrel cellar, where highly acclaimed wines such as the Cento and Lama di Tenente are matured and refined in small oak barrels.
Cantina Castel di Salve
Piazza Castello, 8
Depressa di Tricase (Lecce)
Tel: +39 0833 771041
www.casteldisalve.com