Hotels to remember: Verbania
Verbania: introduction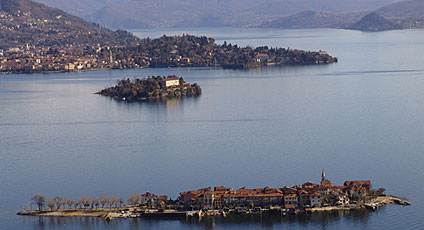 On the Northern bank of the Borromeo Gulf, in one of the most beautiful landscapes of Lake Maggiore, lies Verbania, well known health resort. What makes Verbania of interest to the tourist is, without doubt, the beautiful landscape in which it is immersed, featuring numerous villas and gardens.
The most important site has to be that of Villa Taranto, seat of the Prefecture, surrounded by an immense garden with fountains, botanical gardens, exotic plants, some of which are the only examples present in the whole of Europe. Other sites include the Romanesque Church of St Remigio, which can be visited by appointment only and is situated on the Castagnola promontory, a stretch of land scattered with a number of villas with marvelous gardens.
Palazzo Dugnani houses the Landscape Museum featuring a number of paintings and sculptures with invaluable works of art from the 1900's. Just outside Verbana lies the Renaissance Sanctuary of the Madonna of Campagna with frescoes by Bernardino Lanino and an ancient bell tower once belonging to a Romanesque church.
Verbania: gourmet addresses
Verbania: places to see in the area
Piedmont and Valle d'Aosta: other destinations