Hotels to remember: Tortona
Tortona: introduction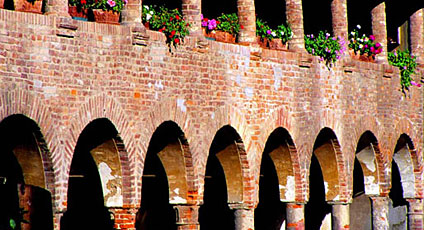 Tortona is situated in an area in the North-East of the province of Alessandria, at the extreme Eastern edge of Piedmont, bordering the province of Pavia. A peaceful town, Tortona is surrounded by green countryside and waterways.
There are a number of interesting religious buildings to visit such as Tortona Cathedral, the Church of St Maria Canale, the Church of St Rocco and St Giovanni, the Church of St Mateo, the Church of St Giacomo, the Church of the Cappuccini, the Abbey of St Maria, the Church of St Giustina. Other sights include Palazzo Vescovile, the town Theatre, Palazzo Guidobono Calvalchini, and Palazzo Barenghi.
Traditional festivities are organized for San Marziano, Santa Croce and the Madonna della Guardia. Events held in the Tortona include the Fiera di Santa Croce, Assaggia Tortona, the July fair and the fireworks display of August 29th.
Tortona: places to see in the area
Piedmont and Valle d'Aosta: other destinations