Hotels to remember: Monferrato
Monferrato: introduction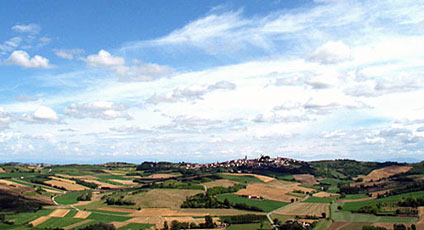 In an area which has been "spared" any great industrial development, Monferrato Casalese is a land rich in history which possesses a great number of architectural masterpieces withtowers, manor houses, ruins, farmsteads and palazzi mixed with a beauty natural landscape comprised of great expanses of vineyards and woodlands.
Undisputed capital of Monferrato, Casale is an artistic and historic treasure trove with numerous monuments just waiting to be discovered: the Civic Tower, the Municipal Theatre, Gonzaga Castle, Palazzo Gozani di Treville, the Synagogue, Palazzo Anna D'Alençon, Palazzo del Carretto, the Monument built to defend Casale in 1849, Palazzo Ricci di Cereseto, Palazzo Sannazzaro, Palazzo Gaspardone-Ottavi, the Monument built in honor of G. Lanza, Palazzo Langosco and Palazzo Treviso.
The town is home to numerous artisans with goldsmiths, lute makers and wicker workshops. Casale Monferrato is also the major center for all Monferrato's exhibitions and fairs, such as the famous St Giuseppe spring trade Fair.
Monferrato: suggestions from the hotels
Silvia Vitali
(Titolare)
Countryside Residences

For its city center with many historical palaces, its Museums, the Reggia, the Nature of the Parco del Valentino and the Parco della RImembranza on the nearby green hills, for all kinds of events, the Juventus Stadium and So much more... (Cascina San Vito) →
Monferrato: places to see in the area
Piedmont and Valle d'Aosta: other destinations