Hotels to remember: Vercelli
Vercelli: introduction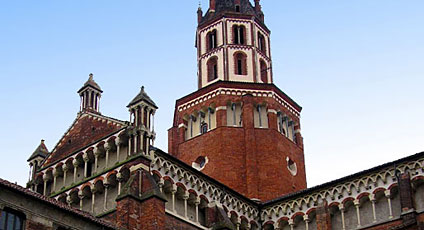 Resting in the lowlands, Vercelli is caressed by the Sesia River. A city of great architectural and artistic interest, Vercelli conserves houses dating back to the XII and XV centuries.
Among the sites to visit: the Monumental Basilica of St Andrea with the adjoining Abbey, the Cathedral of St Eusebio with its numerous art works, the Cathedral's Medieval bell tower, Palazzo dell'Arcivescovado, which can be visited by appointment only and houses numerous works of art by painters of Vercelli, the Cathedral Museum with exhibits including precious furnishings work of goldsmiths from regions of Lombardy and Piedmont.
Also to be seen: the Church of St Cristoforo and the Francesco Borgogna Museum, Art Museum second only to the Turin Sabauda Gallery, with works by Titian and Gaudenzio Ferrari. Within the walls of the Casa degli Alciati and Palazzo Langosco one finds the Camillo Leone Museum with archaeological collections regarding the history of Vercelli.
Vercelli: places to see in the area
Piedmont and Valle d'Aosta: other destinations