Hotels to remember: Novara
Novara: introduction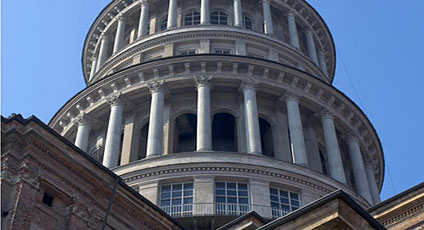 In the heart of the lowlands close to the border with Lombardy, one finds Novara, ancient Roman settlement known as "Novaria". Visitors will be struck by the wealth of architectural and artistic masterpieces conserved in Novara.
To see: Novara Cathedral inside which one finds the rectory Lapidary Museum, the Baptistery which is now one of the most important buildings of the Padana Valley; the complex of Medieval buildings known as Broletto; Palazzo del Podestà, Palazzo del Comune or Arengo and Palazzo dei Paratici, this latter housing a Modern Art Gallery with more than 900 works of art. Along Via Pier Lombardo one reaches the Basilica of St Gaudenzio where to admire a number of canvases and frescoes by the major mannerist artists of the Piedmont region.
Whilst in Novara, visitors might like to stop off at the Palazzo Faraggiana, which conserves one of the Piedmont region's most important taxidermy collections. Last, but not least, there is the "Aldo Rossini" Novara History Museum.
Novara: places to see in the area
Piedmont and Valle d'Aosta: other destinations