Hotels to remember: Belgirate
Belgirate: introduction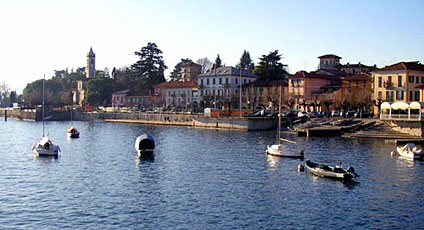 Belgirate is highly probable that the town's name derives from its position, on a curve of Lake Maggiore, panoramically placed on the Motta Rossa promontory, between the lower basin of the lake and the Borromeo Gulf.
Its enchanting and peaceful landscape have attracted many an illustrious name to Belgirate, including the famous editor Treves who built a villa here and offered hospitality to guests such as De Amicis, Verga, D'Annunzio, and Bistolfi.
Stendhal, Fogazzaro and Gozzano often chose Belgirate for their vacations. It is hardly surprisingly then, if Belgirate has been mentioned in numerous works of literature. Visitors should be sure not to miss the walk along the lakeside and through the historic center with its typical architecture of the Riviera.
Also to visit: Villa Carlotta, an exclusive hotel and now chosen venue for numerous congresses, the Gothic Church of St Marta, the Church of St Maria, the Parish Church Purificazione di Maria. The Baita delle Libertà Museum, the Ethnographic Museum, and Villa Treves are all well worth a visit.
Belgirate: gourmet addresses
Belgirate: places to see in the area
Piedmont and Valle d'Aosta: other destinations