Villa Claudia Dal Pozzo
(Historical Residences) Belgirate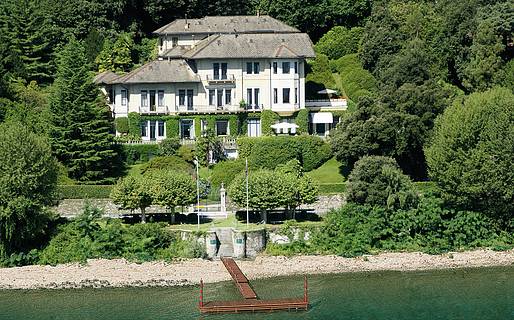 Villa Claudia Dal Pozzo
+39 0322 772011
A romantic villa retreat on Lake Maggiore
Three reasons why you'll love it here

A gorgeous terrace overlooking Lake Maggiore, perfect for special events
A stay in a romantic suite with a view
The aristocratic 18th century atmosphere
Important works of art, elegant decor in an English aristocratic style, sophisticated architectural details: though it may feel like a film set in the 18th century, Villa Claudia Dal Pozzo is instead a refined yet welcoming historical residence with one of the most beautiful views over Lake Maggiore just outside Belgirate.
A Romantic Retreat with a View
The entire villa, which has been carefully conserved in its original Victorian style, seems designed especially for a weekend of romance, with a perfect mix of quiet privacy and breathtakingly lovely views over one of the most picturesque areas of Italy.
Choose between one of the 2 beautiful suites and 4 spacious rooms in Villa Claudia Dal Pozzo, all with luxury amenities and unforgettable views over the lake, where you can watch the technicolor sunset over the shimmering waters in complete privacy.
The private jetty at Villa Claudia Dal Pozzo lets guests arrive directly by water on board a private boat, for an even more romantic start to their stay!

Timeless Relaxation
Take a dip in the large outdoor pool, followed by a few hours of leisure on the sun loungers looking out over Lake Maggiore or a stroll hand-in-hand under the shade of the monumental trees in the sweeping estate surrounding the villa...is there any better way to leave your cares behind and concentrate on the one you love?
To arrive easily at the villa and explore the lovely surrounding area independently, we suggest travelling by car.
An Aristorcratic Wedding
Villa Claudia Dal Pozzo is an ideal venue to celebrate your wedding in style: here you can organize a civil ceremony in one of the most unforgettably lovely spots on the lake. Begin with a pre-dinner cocktail in the garden alongside the pool, then move on to your celebratory dinner in the sumptuous halls indoors, which open onto the scenic terrace overlooking Lake Maggiore.
Have your wedding toast against this stunning backdrop, and begin your life together in elegant sophistication....
Villa Claudia Dal Pozzo is open seasonally from May to October; in winter, the villa opens upon request.

Villa Claudia Dal Pozzo
Strada Statale del Sempione, 5

-

28838

Belgirate

(Verbano-Cusio-Ossola)
Tel.

+39 0322 772011
Fax

+39 0322 292754
Mob.

+39 349 5269554
Villa Claudia Dal Pozzo amenities
Outdoor facilities
Swimming pool
Garden
Private beach
Children's play area
Rooms
Free Wi-fi
Air Conditioning
Room service
Minibar
Safety deposit box
TV
Hair dryer
Events
Various
Pets allowed
Car park
Laundry
Shuttle service (airport / city center / beach)
Baby sitter