Hotels to remember: Acqui Terme
Acqui Terme: introduction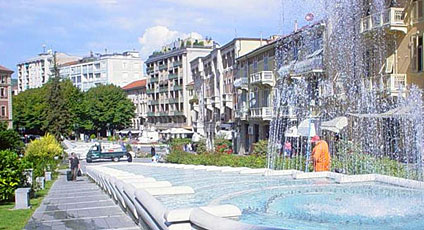 Acqui Terme, on the banks of the Bormida river, is a spa center of extremely ancient origins, and was already famous in Roman Imperial times. The complex is divided in the Nuove terme, in the center of Acqui Terme, and the Antiche Terme situated on the opposite bank of the Bormida river.
To see: Piazza del Duomo, Acqui Terme Cathedral with its triptych of the Madonna di Monserrat, and the cloisters of the Rectory with its Roman remains. From Via Domenico Barone one comes to the Paleogi Castle, now the Civic Archeological Museum. In the courtyard, visitors can enjoy the "Bird Garden", a botanical garden with a wealth of aromatic plants.
Walking along Via Giuseppe Sarocco one reaches a small piazza and the Bollente an octagonal marble tabernacle dating back to the 1800s, from the base of which warm water springs. The Bollente is the symbol of Acqui Terme. The Aqui Terme Regional Enoteca can be found in Piazza Levi, in the cellars of Palazzo Robellini.
More suggestions and useful addresses
Acqui Terme: places to see in the area
Piedmont and Valle d'Aosta: other destinations