Hotels to remember: Poets Gulf
Poets Gulf: introduction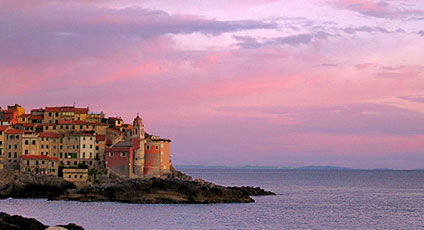 Lying between the deepest inlets of the Tyrrhenian coast, with mountain spurs and enchanting bays, the Gulf of Spezia, or "Poets Gulf", has bewitched poets, painters and writers with the beauty of its landscape.
Places worthy of exploration: Tellaro, with its long beaches; Fiascherino, once the chosen destination of the British writer David Herbert Lawrence; Lerici, famous for its superb local cuisine with dishes such as the delicious fish Soup and Spaghetti alla lericina.
S.Terenzo, with its beautiful beaches, its castle and the walking route from castle to castle; Le Grazie, a spectacular inlet, the water of which is always calm, perfect for fishing enthusiasts; the Roman Villa Varignano; Portovenere, a Medieval hamlet with the Genovese Castle and the Church of St Pietro and finally; the island Palmaria, which can be reached across the sea from Portovenere, and where one can take in a fantastic excursion from Terrizzo across the Via Schenello.
Poets Gulf: suggestions from the hotels
Vis à Vis
(Management/Owner)
4 Star Hotels

If you're looking for a special vacation in Italy, you may want to step far away from the stresses of everyday life and travel down to the small village of Sestri Levante. The prettiest natural feature of the area is the Bay of Silence. (Vis à Vis) →
Claudia Torazza
(Capo Ricevimento)
4 Star Hotels
Because of the beauty of the Tigullio's Gulf with its seaside villages and the carrugi (the colored houses) of Sestri Levante, a jewel overlooking the sea a few kilometers from Rapallo and the Cinque Terre. (Hotel Miramare) →
Poets Gulf: gourmet addresses
Poets Gulf: places to see in the area