Hotels to remember: S. Margherita Ligure
S. Margherita Ligure: introduction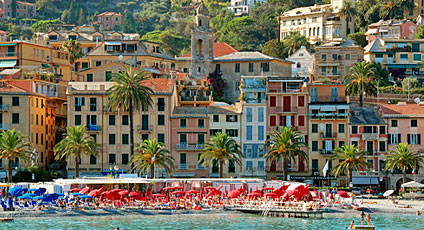 Santa Margherita Ligure is situated on the Riviera of Levante in the region of Liguria. Approximately 35km from Genoa, to the east of the Portofino promontory, the town occupies territory along the inner-most part of the Tigullio gulf.
Santa Margherita Ligure is surrounded by hills the slopes of which, covered in lush Mediterranean vegetation, provide the paradisiacal setting for villas and gardens all with spectacular views out on to the Delfini coast, this latter linking the town to that of Portofino. This unique landscape tells the story of the town and its extremely resistant population.
The resolute hardiness of past inhabitants can be witnessed in the incredibly labour intensive terracing of the land, land predominantly used for the cultivation of olive trees. Likewise, the cobbled paving of the roads which twist their way up the slopes, the olive presses and farmhouses are all signs of an extremely industrious past.
The port of Santa Margherita is now the chosen harbour for luxury yachts which drop anchor next to the locals' traditional fishing vessels. The port is also the site for sporting activities such as sailing and canoeing, as well as numerous fashionable social events linked to the international sailing regattas hosted by the town.
S. Margherita Ligure: suggestions from the hotels
Maria Giovanna Argiolas
(Room Division Manager)
5 Star Hotels
Santa Margherita Ligure is a lovely town overlooking the Tigullio' s Gulf, surrounded by a park of Portofino's Mount. (Imperiale Palace Hotel) →
Claudia Torazza
(Capo Ricevimento)
4 Star Hotels
Because of the beauty of the Tigullio's Gulf with its seaside villages and the carrugi (the colored houses) of Sestri Levante, a jewel overlooking the sea a few kilometers from Rapallo and the Cinque Terre. (Hotel Miramare) →
Vis à Vis
(Management/Owner)
4 Star Hotels

If you're looking for a special vacation in Italy, you may want to step far away from the stresses of everyday life and travel down to the small village of Sestri Levante. The prettiest natural feature of the area is the Bay of Silence. (Vis à Vis) →
More suggestions and useful addresses
S. Margherita Ligure: places to see in the area