Hotels to remember: Ventimiglia
Ventimiglia: introduction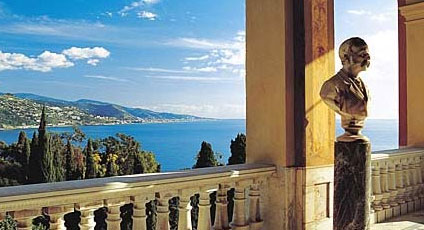 Situated on the border of the Costa Azzurra, Ventimiglia has three different facets within the one city: archeological, medieval and modern. The ancient Ventimiglia can be traced in the Theatre, Porta Provenza, the Insulae and the Domus, the mosaics and the baths.
Medieval Ventimiglia can be found on the right hand side of the River Roia and includes the walls, the Cathedral of the Assunta, the Convent of the Canoniche and the Baroque Church of St Antonio Abate, and on the Provence side, the fort of Porta Canarda. Then there is the Modern Ventimiglia which stretches along the seafront, between the roads for Piedmont and France.
Via Cavour, Via della Repubblica and Piazza dei Martiri are lined with shops and hotels. In this area there are bathing establishments, gardens and playgrounds, and a large market is held here every Friday. To see: the Girolomo Rossi Archeological Museum. Two of the most important cultural events: the Battle of the Flowers and Medieval August.
Ventimiglia: suggestions from the hotels
Elena Scalambrin
(Proprietario)
4 Star Hotels

Liguria, a little strip of paradise between the mountains and the sea, is perfect for skiing, trekking, cycling, fishing and much more besides... with a marvelous mild climate too (Relais del Maro) →
LO STAFF
(LO STAFF )
Seaside Residences
The "Ponente ligure" bike path of the coastal park is one of the longest in the Mediterranean area: it has a total length of 20 km. The route is fully accessible by the pedestrians and cyclists in both directions. (Residence dei Due Porti) →
Ventimiglia: places to see in the area