Hotels to remember: Alassio
Alassio: introduction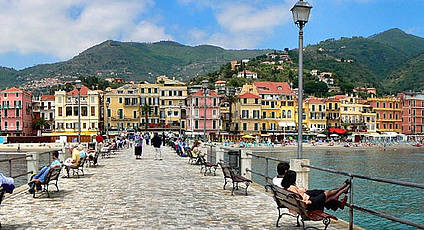 Between Capo Mele and Capo Santa Croce, Alassio is one of he best known beach resorts on the Ligurian coast's Riviera di Ponente. It is thought that the first urban settlement was built here in the 10th century, developing around the small church of Sant'Anna ai Monti. In the 16th century Alassio became part of the Republic of Genoa, and was transformed from small fishing village in important commercial center.

Facing south and sheltered from the winds by a crown of hills, Alassio enjoys a particularly mild climate, a climate which has made it a preferred destination of European travellers since the 18th century. In the early 20th century, the "giardini di collina" gardens and a number of important palazzi were built here, giving rise to a flourishing tourist industry which established Alassio together with Sanremo and Portfino as one of the most fashionable Italian holiday destinations.

In the mid 1950's, following an initiative of a local painter, the "Muretto di Alassio" was born: a simple wall used so as to display tiles decorated by various celebrities of the world of culture, theatre, sport, music, and art. The first was posted by Ernest Hemingway, and since then the tradition has continued.

The large beach of Alassio has been one of the principal reasons for the town's booming tourist trade. Almost four kilometers of fine sand are home to bathing establishments which every year attract thousands of holiday makers to Alassio.
Alassio: suggestions from the hotels
Elena Scalambrin
(Proprietario)
4 Star Hotels

Liguria, a little strip of paradise between the mountains and the sea, is perfect for skiing, trekking, cycling, fishing and much more besides... with a marvelous mild climate too (Relais del Maro) →
LO STAFF
(LO STAFF )
Seaside Residences
The "Ponente ligure" bike path of the coastal park is one of the longest in the Mediterranean area: it has a total length of 20 km. The route is fully accessible by the pedestrians and cyclists in both directions. (Residence dei Due Porti) →
Alassio: places to see in the area