Hotels to remember: Seborga
Seborga: introduction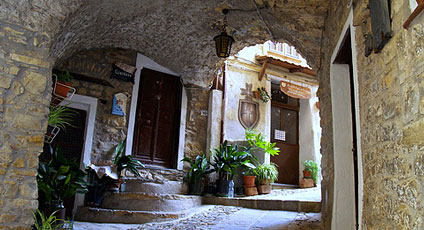 On the westerly facing hillside of Liguria, near to Bordighera, Vallecrosia and Vallebona, there lies the ancient Principality of Seborga. Its history is quite unique: overlooked by the Vienna Congress, today its 335 inhabitants hold on to their independence.
Seborga has its own democratically elected prince, Giorgio I, ministers and ambassadors, and has its own currency, "the Luigino", worth 7 dollars and which can be exchanged at the town's banks, in the Palazzo Lantica Zecca, at the tourist office and in various shops such as the Ruppe Minimarket, and Liliana Viale Delicatessan, or in the Principality of Monaco.
The unusual status of Seborga attracts many, who enjoy not only the peace, once so dear to artists such as Monet, but can also wander through the narrow streets and colonnades between the Church of St Martino and Palazzo Monaci.
The local cuisine also has ancient origins, with specialties such as Rabbit alla Seborghina. On August 20th, St Bernardos day, the National Festival is celebrated.
Seborga: suggestions from the hotels
LO STAFF
(LO STAFF )
Seaside Residences
The "Ponente ligure" bike path of the coastal park is one of the longest in the Mediterranean area: it has a total length of 20 km. The route is fully accessible by the pedestrians and cyclists in both directions. (Residence dei Due Porti) →
Elena Scalambrin
(Proprietario)
4 Star Hotels

Liguria, a little strip of paradise between the mountains and the sea, is perfect for skiing, trekking, cycling, fishing and much more besides... with a marvelous mild climate too (Relais del Maro) →
Seborga: places to see in the area