Hotels to remember: Sanremo
Sanremo: introduction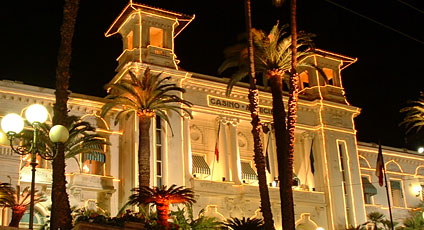 Known on a world wide scale for being the chosen residence of many an illustrious name, Sanremo has gained the title of "Capital of Floriculture". Its mild climate favors the growth of a quite unique mixture of tropical and Mediterranean vegetation. Sanremo is the site of two important tourist ports: Porto Sole and Porto Vecchio.
Buildings of note, in the Liberty style, are Villa Noseda, Villa Anger, the Riviera Palace Hotel, the Hotel Bellevue which houses the Sanremo casinò, Villa Nobel and the Russian Orthodox Church.
Among its most illustrious guests were Napoleon and Pope Paul III. Visitors should not miss the chance to explore the city's historic center known as "La Pigna". To see: Palazzo Borea dOlmo, the Basilica of St Siro and the Baptistery of St Giovanni.
The most important events: The Italian Song Festival, the Songwriters Review, the Milan-Sanremo cycle race and the Sanremoinfiore flower show.
The cuisine is excellent, featuring dishes such as Trofie, Ravioli al Pesto, stuffed vegetables, Torta Verde, Rabbit al Fermentino and Sardenaria.
Sanremo: suggestions from the hotels
Elena Scalambrin
(Proprietario)
4 Star Hotels

Liguria, a little strip of paradise between the mountains and the sea, is perfect for skiing, trekking, cycling, fishing and much more besides... with a marvelous mild climate too (Relais del Maro) →
LO STAFF
(LO STAFF )
Seaside Residences
The "Ponente ligure" bike path of the coastal park is one of the longest in the Mediterranean area: it has a total length of 20 km. The route is fully accessible by the pedestrians and cyclists in both directions. (Residence dei Due Porti) →
Sanremo: gourmet addresses
More suggestions and useful addresses
Sanremo: places to see in the area