Hotels to remember: Genova
Genova: introduction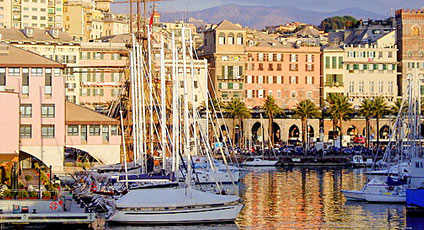 A city of ancient traditions, Genoa includes the Levante Genovese, an urban area with beaches, ancient estates, convents and villas, and the Ponente Genovese, an area rich in parks and natural beauty spots.
The sites not to be missed are numerous starting with the architecture: the Historical Center of Genoa, Palazzo Ducale, Palazzo Reale, Piazza and Church of St Matteo, Palazzo Principe Doria Pamphili, Palazzo Spinola, the Cathedral of St Lorenzo and the historic Aqueduct. Then there are the museums such as the Strada Nuova Museums, the Palazzo Rosso Gallery, Palazzo San Giorgio, the Palazzo Bianco Gallery, Palazzo Tursi, the Museum of the Reunification of Italy, the Museum of St Agostino, the Museum of Eastern Art.
The city's maritime traditions can be traced in the Aquarium of Genoa, the Galata Museum of the Sea, the Lanterna of Genoa and the Old Port. There are superb castles, such as the MacKenzie Castle, and Castle D'Albertis. The forts of Genoa should not be missed and, for rail enthusiasts, the ancient Genoa-Casella railway is a real treat.
Genova: suggestions from the hotels
Claudia Torazza
(Capo Ricevimento)
4 Star Hotels
Because of the beauty of the Tigullio's Gulf with its seaside villages and the carrugi (the colored houses) of Sestri Levante, a jewel overlooking the sea a few kilometers from Rapallo and the Cinque Terre. (Hotel Miramare) →
Maria Giovanna Argiolas
(Room Division Manager)
5 Star Hotels
Santa Margherita Ligure is a lovely town overlooking the Tigullio' s Gulf, surrounded by a park of Portofino's Mount. (Imperiale Palace Hotel) →
Vis à Vis
(Management/Owner)
4 Star Hotels

If you're looking for a special vacation in Italy, you may want to step far away from the stresses of everyday life and travel down to the small village of Sestri Levante. The prettiest natural feature of the area is the Bay of Silence. (Vis à Vis) →
Genova: gourmet addresses
More suggestions and useful addresses
Genova: places to see in the area