Hotels to remember: Levanto
Levanto: introduction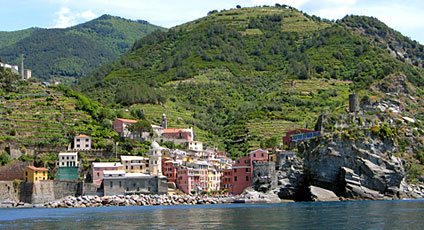 What makes this little town the chosen destination of so many lovers of the sea and tranquility, is the opportunity it gives to visit on foot all of the most important places of Levanto.
Following the itinerary which starts with the coastal walk "della pietra", one passes the ancient Castle, the Medieval walls, the Church of St Andrea, the Material Culture exhibition, the Medieval Loggia, the Oratory of St Giacomo, the Monastery of the Clarisse, the Convent and Church of the Annunziata.
Not to be missed: a visit to the various quarters of Levanto: Dosso, Lavaggiorosso, Legnaro, Montale and Chiesanuova. The Hermitage of St Antonio del Mesco is beautiful.
There are many bathing establishments and places to dive and surf. Among the principal events of Levanto: the Levanto Choral Review, the Festival of the Sea, the Amditheatrof Festival, the Festival of St Rocco, Nostra Santissima della Neve, the Gastronomic Walk "Mangialunga", the Stralevanto cross country race and the Solennità di Nostra Santissima della Guardia.
Levanto: suggestions from the hotels
Vis à Vis
(Management/Owner)
4 Star Hotels

If you're looking for a special vacation in Italy, you may want to step far away from the stresses of everyday life and travel down to the small village of Sestri Levante. The prettiest natural feature of the area is the Bay of Silence. (Vis à Vis) →
Claudia Torazza
(Capo Ricevimento)
4 Star Hotels
Because of the beauty of the Tigullio's Gulf with its seaside villages and the carrugi (the colored houses) of Sestri Levante, a jewel overlooking the sea a few kilometers from Rapallo and the Cinque Terre. (Hotel Miramare) →
Levanto: places to see in the area