Hotels to remember: Portofino
Portofino: introduction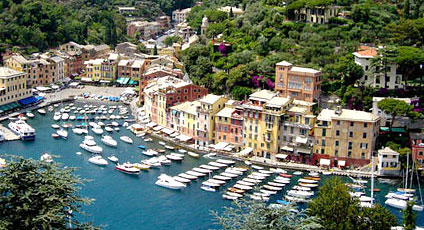 Portofino rises up on a small gulf protected by a promontory, amongst some of the most beautiful scenery in Europe, between Punta Chiappa, the inlets of Cala dell'Oro and St Fruttuoso and Punta Carega.
It has been a destination of the rich and famous for more than half a century, Guy de Montpassant was one of the first visitors to Portofino, which he described as "a cresent moon around a calm basin". Liz Taylor, Richard Burton, Nietzsche and Humphrey Bogart all chose Portofino as a perfect hideaway.
In the town, in addition to the legendary Piazzetta, visitors can admire the Abbey of St Fruttuoso, the Sanctuary of St Giorgio and the Brown Castle.
The entire promontory of Portofino is now a protected area with lush vegetation and an impressive quantity of invertebrates and birds.
The beach of Portofino, "Paraggi", is ideal for lovers of sun and sea. Here, in this unique stretch of sea, one finds the Corallium Rubrum (red coral). Amongst the major underwater attractions, the Cristo degli Abissi.
Portofino: suggestions from the hotels
Maria Giovanna Argiolas
(Room Division Manager)
5 Star Hotels
Santa Margherita Ligure is a lovely town overlooking the Tigullio' s Gulf, surrounded by a park of Portofino's Mount. (Imperiale Palace Hotel) →
Claudia Torazza
(Capo Ricevimento)
4 Star Hotels
Because of the beauty of the Tigullio's Gulf with its seaside villages and the carrugi (the colored houses) of Sestri Levante, a jewel overlooking the sea a few kilometers from Rapallo and the Cinque Terre. (Hotel Miramare) →
Vis à Vis
(Management/Owner)
4 Star Hotels

If you're looking for a special vacation in Italy, you may want to step far away from the stresses of everyday life and travel down to the small village of Sestri Levante. The prettiest natural feature of the area is the Bay of Silence. (Vis à Vis) →
Portofino: gourmet addresses
More suggestions and useful addresses
Portofino: places to see in the area