Hotels to remember: Camogli
Camogli: introduction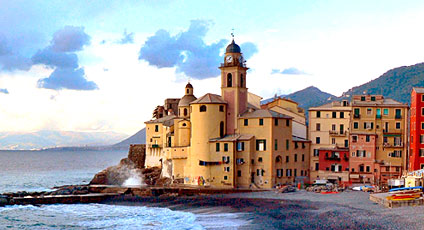 In the heart of the Golfo Paradiso one finds Camogli, a small sunny town, with multicolored houses and a sea perfect for those wishing to relax. Thanks to its ancient maritime traditions, Camogli is also known as the city of "the Thousand White Sailing Ships". Walking along the alleyways, one frequently comes across images of the Virgin, to whom the inhabitants of Camogli often turned to ask for protection from the sea.
There are a host of local events to tempt the visitor to stay a little longer: St Valentine's day, the Festival of the Patron Saint, St Fortunato, the Celebrations of the Croce Verde, Cristo degli Abissi, the Concerts held in the Abbey of St Fruttuoso, the Dog Show at San Rocco di Camogli, Re Camoglino and the Festa delle Restie.
As well as the sea, nature lovers will enjoy the walks: Passeggiata della quite from Ruta to San Rocco; the route towards the promontory of Portofino or Punta Chiappa and San Fruttuoso. The trips by boat to San Fruttuoso or along the Paradiso Gulf are splendid.
Camogli: suggestions from the hotels
Vis à Vis
(Management/Owner)
4 Star Hotels

If you're looking for a special vacation in Italy, you may want to step far away from the stresses of everyday life and travel down to the small village of Sestri Levante. The prettiest natural feature of the area is the Bay of Silence. (Vis à Vis) →
Maria Giovanna Argiolas
(Room Division Manager)
5 Star Hotels
Santa Margherita Ligure is a lovely town overlooking the Tigullio' s Gulf, surrounded by a park of Portofino's Mount. (Imperiale Palace Hotel) →
Claudia Torazza
(Capo Ricevimento)
4 Star Hotels
Because of the beauty of the Tigullio's Gulf with its seaside villages and the carrugi (the colored houses) of Sestri Levante, a jewel overlooking the sea a few kilometers from Rapallo and the Cinque Terre. (Hotel Miramare) →
More suggestions and useful addresses
Camogli: places to see in the area