Hotels to remember: Rapallo
Rapallo: introduction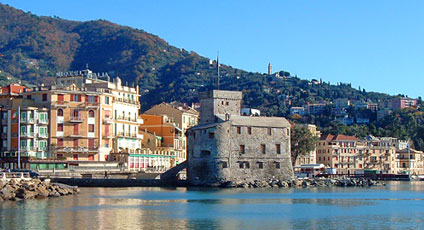 Like all of the beautiful localities of Liguria, Rapallo offers a combination of sea and inland typical of the region. Situated on the internal part of the Gulf of Tigullio, Rapallo, and its two areas, Santa Maria del Campo and San Massimo, is today an International tourist destination with a port well equipped for private boats.
Giovanni da Vico, Fortunio Licato and Nicolò Barbagelata were born here. Friedrich Nietzche stayed here and found inspiration for his "Zarathustra".
To be seen: the Oratory of S.S Trinità seat of the Confraternity of the Bianchi, the Tower of the Rapallo Community, the Monastery of Valle Christi, the Porta delle Saline, the Lace Museum and the Sanctuary of the Madonna of Montallegro.
Famous for its production of Lace, Rapallo also has fine culinary traditions, with dishes such as Lasagna al Pesto, Foccaccia al'Olio and Frittelle Ripiene.
The town hosts numerous events, among which are the Festival of the Patron Saint Nostra Signora di Montallegro, the Fair of St Sebastiano, and a busy calendar of artistic reviews.
Rapallo: suggestions from the hotels
Maria Giovanna Argiolas
(Room Division Manager)
5 Star Hotels
Santa Margherita Ligure is a lovely town overlooking the Tigullio' s Gulf, surrounded by a park of Portofino's Mount. (Imperiale Palace Hotel) →
Claudia Torazza
(Capo Ricevimento)
4 Star Hotels
Because of the beauty of the Tigullio's Gulf with its seaside villages and the carrugi (the colored houses) of Sestri Levante, a jewel overlooking the sea a few kilometers from Rapallo and the Cinque Terre. (Hotel Miramare) →
Vis à Vis
(Management/Owner)
4 Star Hotels

If you're looking for a special vacation in Italy, you may want to step far away from the stresses of everyday life and travel down to the small village of Sestri Levante. The prettiest natural feature of the area is the Bay of Silence. (Vis à Vis) →
More suggestions and useful addresses
Rapallo: places to see in the area