Hotels to remember: Imperia
Imperia: introduction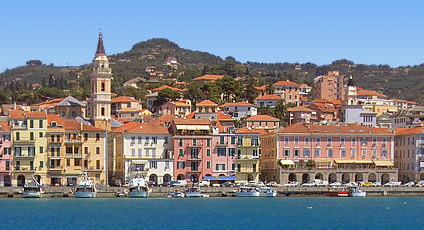 In the heart of the Riviera dei Fiori, formed from the joining of Oneglia and Porto Maurizio, one finds Imperia, with its ancient hamlets of Parasio, Marina, Prino, Foce and Peri. Imperia is famous for its Olive Oil and the flower cultivation.
To be seen: the Basilica of St Maurizio, the Navy Museum, the Art Museum, the Prarola Tower, Villa Grock, the Church of St Giovanni, the Olive Museum, the ancient hamlets, the ports of Oneglia and Porto Maurizio, the sanctuary of Our Lady. The valleys of Prino and Caramagna are beautiful.
Just a few kilometers from the city are the villages of Piani, with its Church of the Assunta, Clavi with its Romanesque Bridge and the Church of St Giorgio, and Torrazza, with its splendid Barbaresque Tower.
Events of note: the Festival of St Leonardo, Patron Saint of Imperia, the Festival of St Giovanni, the Festival of St Antonio, the Flower display of Corpus Domini, the Classic Sailing Yacht Meeting and the Festival of the Assunta. Interesting markets are held in Piazza Duomo and Piazza Doria.
Imperia: suggestions from the hotels
Elena Scalambrin
(Proprietario)
4 Star Hotels

Liguria, a little strip of paradise between the mountains and the sea, is perfect for skiing, trekking, cycling, fishing and much more besides... with a marvelous mild climate too (Relais del Maro) →
LO STAFF
(LO STAFF )
Seaside Residences
The "Ponente ligure" bike path of the coastal park is one of the longest in the Mediterranean area: it has a total length of 20 km. The route is fully accessible by the pedestrians and cyclists in both directions. (Residence dei Due Porti) →
Imperia: gourmet addresses
More suggestions and useful addresses
Imperia: places to see in the area