Hotels to remember: Albenga
Albenga: introduction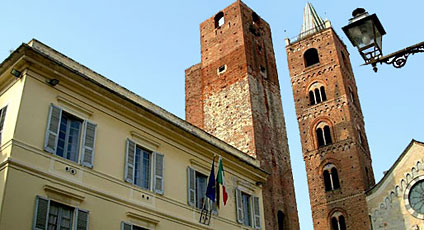 The origins of Albenga date back to the Roman period when, together with Vado and Ventimiglia, it was one of the most important towns on the Riviera of Ponente. The town is situated on a low lying land at the mouth of the river Centa.
The urban center, dating back to the medieval period, is characterised by a number of monuments which all bear testimony to the town's glorious past, monuments such as the ruins of the amphitheatre, the theatre, and the Roman aqueduct.
In the historic center, we find the Cathedral of San Michele, the decagonal-plan Baptistery with its splendid mosaics, and the towers which have become the true symbols of Albenga. The two Torri comunali, the Torre campanaria and two other towers of smaller dimension, make the skyline of Albenga quite unique. Also worthy of visit is the town's Roman Naval Museum which houses over a thousand amphora found on the sea bed of Albenga.

In addition to its historical and cultural significance, Albenga is an important seaside resort. The beach of Albenga, from where one can admire a fabulous view of the island of Gallinara is chosen by thousands of tourists each year as the perfect place where to pass their summer holidays.
Numerous festivals, theatrical performances and cultural events animate the streets of this lively town.
Albenga: suggestions from the hotels
Elena Scalambrin
(Proprietario)
4 Star Hotels

Liguria, a little strip of paradise between the mountains and the sea, is perfect for skiing, trekking, cycling, fishing and much more besides... with a marvelous mild climate too (Relais del Maro) →
LO STAFF
(LO STAFF )
Seaside Residences
The "Ponente ligure" bike path of the coastal park is one of the longest in the Mediterranean area: it has a total length of 20 km. The route is fully accessible by the pedestrians and cyclists in both directions. (Residence dei Due Porti) →
Albenga: places to see in the area