Hotels to remember: Diano Marina
Diano Marina: introduction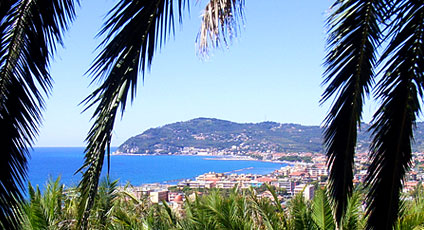 On the Italian Riviera of Flowers, just a few kilometers away from Sanremo, lies Diano Marina. The town owes much of its fortune to the area's fabulously mild climate: embraced by the hills of the hinterland on one side and caressed by the sea's waves on the other, Diano Marina is blessed by a truly unique micro climate.
The fine sandy beaches, are another major tourist attraction. Traces of the town's ancient past can be found in the historic nucleus of Diano Castello, the 11th century castle perched on the top of a hill.
Of the same era there is the medieval village of Cervo, a kilometer away from Diano. Resting on a promontory right above the sea, Cervo is dominated by the Baroque Church dedicated to San Giovanni Battista. Each summer, a famous International Chamber Music Festival is held in the grounds of the church.
Finally, and of certain interest to the visitor, there is the Civic Archaeological Museum, housed in the Palazzo del Parco, in Diano, with numerous artefacts from the earliest Celtic settlements dating back to the 1st century B.C.
Diano Marina: suggestions from the hotels
LO STAFF
(LO STAFF )
Seaside Residences
The "Ponente ligure" bike path of the coastal park is one of the longest in the Mediterranean area: it has a total length of 20 km. The route is fully accessible by the pedestrians and cyclists in both directions. (Residence dei Due Porti) →
Elena Scalambrin
(Proprietario)
4 Star Hotels

Liguria, a little strip of paradise between the mountains and the sea, is perfect for skiing, trekking, cycling, fishing and much more besides... with a marvelous mild climate too (Relais del Maro) →
Diano Marina: places to see in the area