Hotels to remember: Lerici
Lerici: introduction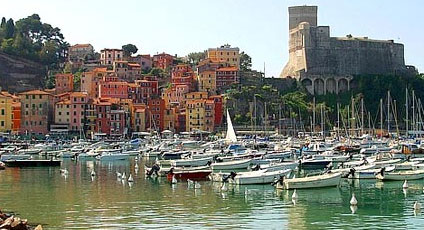 Of ancient origins, Lerici has been a strategic merchant port throughout history. There are several routes which one can take to explore the city's beautiful verdant landscape, dotted with old palazzi and villas; for example: from Aurelia to Tellaro and then on to Lerici.
The Montemarcello Park, with a wealth of flora and Mediterranean foliage, as well as diverse fauna is sited in Lerici. To visit: the Underwater Archeological Museum of Caletta, situated between Maramozza and Maralunga.
Interesting architecture can be seen in the Monumental Castle of Lerici, the Tower of St Rocco, the Oratory of St Rocco, the Parish Church of St Francis of Assisi, the Oratory of St Bernardino, the Castle of St Terenzo, Villa Magni, Villa Marigola, the Oratory of St Maria in Salea, the ruins of Barbazzano, not to mention the old churches of Lerici such as the Church of St Giuliana and the Church of St Marta.
Lerici: suggestions from the hotels
Vis à Vis
(Management/Owner)
4 Star Hotels

If you're looking for a special vacation in Italy, you may want to step far away from the stresses of everyday life and travel down to the small village of Sestri Levante. The prettiest natural feature of the area is the Bay of Silence. (Vis à Vis) →
Claudia Torazza
(Capo Ricevimento)
4 Star Hotels
Because of the beauty of the Tigullio's Gulf with its seaside villages and the carrugi (the colored houses) of Sestri Levante, a jewel overlooking the sea a few kilometers from Rapallo and the Cinque Terre. (Hotel Miramare) →
Lerici: gourmet addresses
Lerici: places to see in the area