Hotels to remember: Rome
Rome: introduction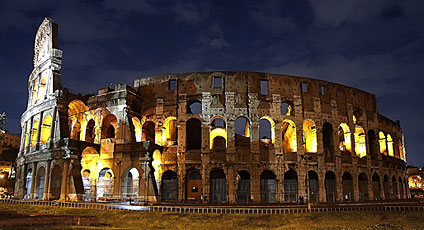 Rome, the "Eternal City", is eternally beautiful. In an area measuring just a few square kilometers, any number of historic monuments can be found, monuments adopted as symbols of Italy, throughout the world. From the Imperial Forum, the Coliseum and the Domus Aurea of ancient Rome, to the fashionable shopping district of today's vibrant capital city.
In via dei Condotti the shop windows are filled with enticing displays all the way to Piazza di Spagna and the much photographed flight of steps (the Spanish Steps) which leads to the Trinità dei Monti church. In the heart of the historic center of Rome lie the Trevi Fountain, the Pantheon, Piazza Navona and Campo dei Fiori.
Coasting the banks of the Lungotevere, on the other side of the river Tiber, we find the colourful district of Trastevere, Castel Sant'Angelo and the via della Conciliazione, this latter the road which links Rome with the Vatican City.
An autonomous state within the Italian capital, the Vatican embraces faithful and tourists alike in the Piazza San Pietro, square bordered by an imposing colonnade. The immense St Peter's Basilica is an artistic masterpiece of inestimable value, as is the splendid Sistine Chapel, principal attraction of the Vatican Museums.
Rome: suggestions from the hotels
Roberto Del Duce
(Direttore e Chef)
4 Star Hotels

Because of the sea ... a stone's throw from Rome. Because the area is rich with history, culture, art. Because the products of the sea and the earth are children of the tradition, genuine and authentic, delicious. (Hotel Alle Tamerici) →
Paolo Fortini
(Direttore)
4 Star Hotels

Visit the Castelli Romani area around Rome, pleasant places rich of History. Discover the old noble villas, the ruins of Tusculum, the lakes of Albano and Nemi. Enjoy the local food offer. Experience the hospitality of our "Hotel****" (Locanda dello Spuntino) →
More suggestions and useful addresses
Rome: places to see in the area