Hotels to remember: Bracciano
Bracciano: introduction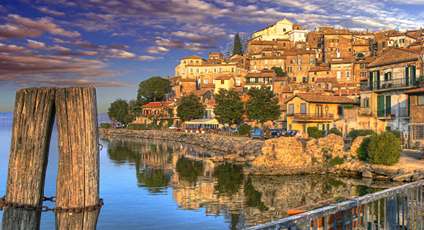 A medieval fiefdom, complete with fairytale castle, gazing out across a lake. This is how Bracciano appears to the many visitors coming to admire this enchanting little town in the province of Rome. Lake Bracciano which, with its 57 square kilometers, is the second largest of Lazio's lakes, is of volcanic origin, formed in the crater of an extinct volcano. The lake is the destination for a number of important sailing events.
One of the most scenic spots from where to view the lake is that occupied by the Odescalchi Castle. Erected in the latter half of the 15th century by the Orsini, the castle has an irregular quadrilateral form and six cylindrical towers. In 1695 it was purchased by the Odescalchi family, who still own the building. Inside the castle walls, visitors have the opportunity to admire the Papalina Library and a series of magnificent reception halls, such as the Sala dei Cesari, the Sala degli Orsini and the Sala d'Armi. Well worth visiting: the castle kitchens in which there is a fascinating collection of old cooking utensils, and the secret garden: a hanging garden of 1800 square meters which faces directly on to the lake.
In the historic center of Bracciano, characterised by its maze of picturesque medieval lanes and alleyways, there are a number of terraces overlooking the lake. Not to be missed: the Cathedral of Santo Stefano and the Church of Santa Maria Novella, this latter commissioned by the Cardinal Giordano Orsini.
Bracciano: suggestions from the hotels
Roberto Del Duce
(Direttore e Chef)
4 Star Hotels

Because of the sea ... a stone's throw from Rome. Because the area is rich with history, culture, art. Because the products of the sea and the earth are children of the tradition, genuine and authentic, delicious. (Hotel Alle Tamerici) →
Bracciano: places to see in the area