Hotels to remember: Viterbo
Viterbo: introduction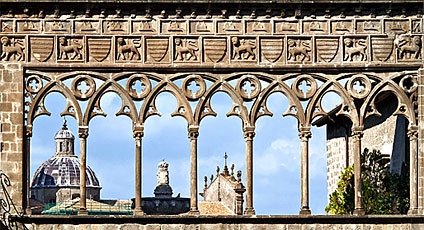 Viterbo, capital of Tuscia and "City of Popes". For 24 years, between 1257 and 1281, period in which the Catholic Church was encountering great difficulty asserting its authority over Rome, Viterbo offered hospitality to a succession of popes, in the imposing Palazzo dei Papi, edifice which is still considered the town's most important building. Next to the Palazzo, lies the Loggia which, in turn, leads to the entrance of the Sala del Conclave, in which some five popes were elected.
Just steps away from Piazza San Lorenzo, lies Viterbo's splendid Romanesque cathedral. Another square in which to observe the magnificence of medieval Viterbo is that of Piazza Plebiscito, where the Palazzo Comunale and the Church of Santa Rosa are situated. Lining the narrow streets of the historic center, any number of patrician town houses, churches and cloisters can be seen, all dating back to various periods in history. Then there are the fountains built in pietra peperino, the stone traditionally used in Viterbo.
Long before the popes arrived in the town, Viterbo had been inhabited by the Etruscans and later by the Romans, no doubt drawn here by the exceptional therapeutic properties of the area's sulphurous spring waters. Visitors to the town can still experience the benefits of Viterbo's thermal springs which surface at Paliano, Bulicame and Bagnaccio. Another of Viterbo's attractions, well worth visiting, is the town's network of underground tunnels and caverns, most of which now used as cellars.
More suggestions and useful addresses
Viterbo: places to see in the area