Hotels to remember: Anzio
Anzio: introduction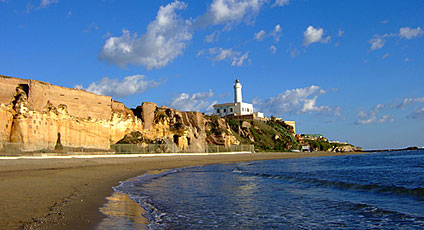 A seaside town famous for its port, Anzio is the ideal point of departure for those heading to the Pontine islands, Ventotene and Ponza and the beach of the ancient Romans. This stretch of Lazio's coastline is scattered with the remains of Roman villas dating back to the golden era of "Antium", town where the Emperor Nero was born.
The remains of a magnificent Imperial villa, situated within the Archaeological Park, and the ruins of the old port testify to the importance of Anzio's most illustrious citizen. The port of Anzio was the stage of a crucial episode during the latter part of the Second World War. It was here, on January 22nd 1944, that the allied forces landed. The Anzio Beachhead Museum, housed within the 17th century Villa Adele, tells the tale of the landing by way of a fascinating collection of uniforms, equipment, documents, battle plans, maps, and photographs of the landing of the British and American forces.
A Liberty style casino named "Il Paradiso del Mare" is now seat of Anzio's Hotel School. Federico Fellini chose this imposing building for the Grand Hotel in his Oscar winning film, "Amarcord". For nature lovers Anzio's Nature Reserve of Tor Caldara is an absolute must: offering a marvellous opportunity to admire a stretch of Mediterranean forest inhabited by numerous plant and animal species.
Anzio: suggestions from the hotels
Paolo Fortini
(Direttore)
4 Star Hotels

Visit the Castelli Romani area around Rome, pleasant places rich of History. Discover the old noble villas, the ruins of Tusculum, the lakes of Albano and Nemi. Enjoy the local food offer. Experience the hospitality of our "Hotel****" (Locanda dello Spuntino) →
Anzio: places to see in the area