Hotels to remember: Sabaudia
Sabaudia: introduction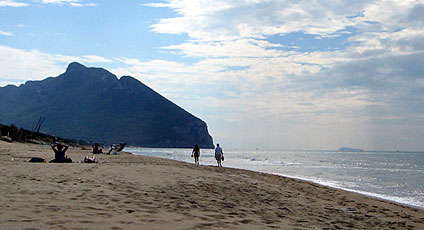 Busy beaches or semi-deserted bays: Sabaudia has something for everybody. A favourite with Italy's Very Important People, not only for its vicinity to Rome but also for its clear blue sea, its glorious sandy beaches and its glamorous, non-stop nightlife. Sabaudia's 20km of beaches have been consecutively awarded the European Blue Flag: guaranteeing the cleanliness of the water and the quality of the services offered.

One of five cities created as part of Benito Mussolini's important reclamation and resettlement programme, project which involved the draining of the Pontine marshes, Sabaudia was founded on August 5th 1933. Although today's city is of relatively recent establishment, traces of a pre-existing ancient Roman settlement have been found in the area. The Pontine coast is dotted with a number of watch towers, including the exceptionally well-conserved Torre Paola, erected in the early 16th century.
Sabaudia lies within the 8,500 hectare Parco Nazionale del Circeo. The park, the geographical position of which coincides with the principal migratory routes of numerous bird species, boasts a number of exceptional observation points for birdwatchers and, in particular, that overlooking the saltwater Lake Poala (also known as Lake Sabaudia).
Sabaudia: suggestions from the hotels
Pasquale Valentino
(Owner)
B&B and Homes

To discover all the charm of an area full of history, culture, archeology and nature. A wonderful sea from Sperlonga to Gaeta, for years Blue Flag beach. A Kasa Mia the high quality of hospitality is the rule! (Akasamia) →
Sabaudia: places to see in the area