Hotels to remember: Fiuggi
Fiuggi: introduction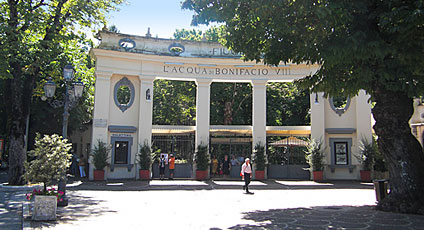 The medieval hill top town of Fiuggi, situated just outside the Ciociaria, in the province of Frosinone, is one of Europe's most important thermal centers. Since the 1300's, when Pope Boniface VIII celebrated his liberation from excruciatingly painful kidney stones here, Fiuggi has boasted a reputation for the health inducing properties of its mineral waters.
The great Michelangelo claimed that the waters of Fiuggi had relieved him of "the only kind of stone I couldn't love." In addition to enjoying treatments in Fiuggi's state-of-the-art spas, visitors to the town have the opportunity to partake in any number of sporting activities: from golf to horse riding, swimming to mountain biking. Fiuggi is also a great place to shop, and is home to numerous art galleries.
Above the 20th century spa town known as Fiuggi Fonte, lies the picturesque town of Fiuggi Città which, with its incredibly narrow medieval streets and alleys, is best visited on foot. The "Vicolo Baciadonne" is so narrow that pedestrians are obliged to pass within kissing distance of each other. A tour of the town might well start with the Piazza dell'Olmo, home to the Church of San Pietro and Palazzo Falconi.
Then there are the two magnificent edifices built in Italian liberty style: the old Casinò, which now serves as Town Hall, and the Grand Hotel, in which to find one of the most prestigious hotel schools in Italy. A few kilometers away from Fiuggi lies the Natural Oasis of Fiuggi and Lake Canterno, sites which will delight nature lovers and, in particular, fishing enthusiasts.
Fiuggi: places to see in the area