Hotels to remember: Rieti
Rieti: introduction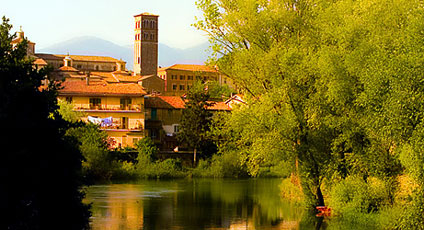 "Rieti is a beautiful town of aristocratic form", thus the writer Guido Piovene described the capital of the Sabina in the 1950's. Rieti is home to elegant patrician town houses, ornate churches and more than a touch of classical architecture, this latter left by the ancient Romans.
The Roman bridge which traverses the Velino river is one of the symbols of Rieti. The town's most impressive works of architecture are grouped around the two piazzas: Piazza Battisti and Piazza Vittorio Emanuele II. In Piazza San Rufo there is a stone which indicates Rieti as center of Italy.
Dominating the historic center, Palazzo Comunale is arguably the most important of the town's buildings although Rieti, town in which numerous popes and even St Francis of Assisi resided, is famous, above all, for its religious edifices. From the cathedral, baptistery, and bishop's palace in the center of town, to the convents of Fonte Colombo and Santa Maria della Foresta, situated just a few kilometers beyond the city walls.
To visit in the vicinity of Rieti there are not only a number of centuries old places of worship, but also the stunningly beautiful Marmore falls and the 2,216 m high Terminillo mountain, this latter a favourite destination among winter sports fans.
Rieti: places to see in the area