Hotels to remember: Frosinone
Frosinone: introduction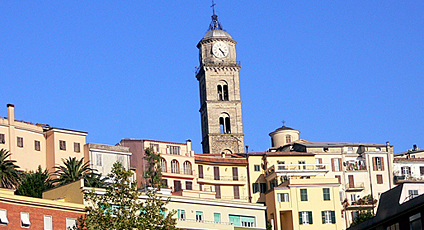 Frosinone lies in the heart of an area known as the Ciociara. The town is perched on top of a hill from where it dominates the Sacco valley. Here tradition and folklore are part of every day life. The origin of the name "Ciociara" can be traced back to the type of footwear worn by the shepherds in the area, a leather shoe with raised toe, called "ciocie".
Founded by the Volsci, Frosinone was originally called Frusino. The signs of its long dominion by the ancient Roman Empire can be seen in what remains of the Amphitheatre and in the numerous findings which can be admired in the town's Archaeological Museum. Under the rule of papal Rome, Frosinone was embellished with a series of beautiful churches, the most important of which is the Cathedral of Santa Maria Assunta. Originally built in Romanesque style, the church was altered on various occasions until assuming its present baroque appearance complete with fabulous polychrome marbles. Next to the Cathedral, stands the imposing bell tower.
Not to be missed, the Church of San Benedetto, built in 1134, and rebuilt in the 19th century, mixing Doric and Ionic elements. Inside, an ancient picture gallery houses canvases dating from the 17th to 19th centuries. In the vicinity of the vicolo del Boia, place where public executions once took place, there is the elegant Church of Santa Elisabetta. Just outside the historic center, lies the octagonal shaped Church of Delibera, also known as the Church of San Magno: an ancient edifice dating back to the 9th century.
More suggestions and useful addresses
Frosinone: places to see in the area