Hotels to remember: Civitavecchia
Civitavecchia: introduction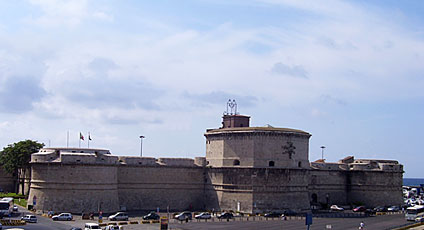 A port used by cruise ships and ferries headed to the Italian islands, but also an ancient maritime city. Civitavecchia is Rome's largest merchandise port, of great strategic significance since the times of the Roman Empire.
The Forte Michelangelo testifies to the historical importance of Civitavecchia. The fortress, built on a quadrilateral plan, with four turrets and an octagonal shaped donjon, was initiated by Bramante. Following the premature death of the great renaissance artist in 1514, the work was continued by Sangallo il Giovane. The finishing touches were provided by Michelangelo in 1535.
Civitavecchia overlooks a stunning stretch of the Tyrrhenian coast, the sandy beaches and rocky seabed of which make it one of the most popular bathing resorts in Italy's Lazio region. The old town is well worthy of visit, so as to admire the Cathedral and Piazza Leandra, and to enjoy the walk from the Marina to the fountain of Vanvitelli.
Just a few kilometers from the town lies one of the most important archaeological complexes of Southern Etruria, the Terme Taurine. The site is divided in two areas: the Republican Baths and the Imperial Baths, the latter dating back to the 2nd century B.C, and the reign of Emperor Adrian. Here, visitors are able to admire a number of magnificently preserved mosaics. Those wishing to experiment the health inducing benefits of the sulphurous waters so loved by the Romans, should head to the nearby Ficonella thermal baths.
Civitavecchia: suggestions from the hotels
Roberto Del Duce
(Direttore e Chef)
4 Star Hotels

Because of the sea ... a stone's throw from Rome. Because the area is rich with history, culture, art. Because the products of the sea and the earth are children of the tradition, genuine and authentic, delicious. (Hotel Alle Tamerici) →
More suggestions and useful addresses
Civitavecchia: places to see in the area