Hotels to remember: Ostia
Ostia: introduction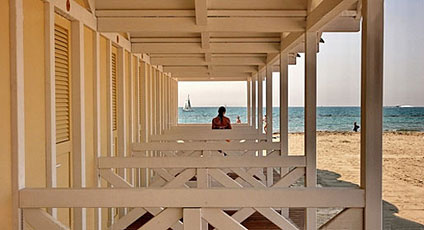 Ostia Lido is Rome's beach. During the summer months hundreds of holiday makers, many of whom travelling on the trains which depart each day from the station of Ostiense, arrive on the golden beaches of Ostia, so as to bask in the sunshine and enjoy the services offered by the well equipped bathing establishments which populate this stretch of coast.
These very same establishments, by night, are animated by pulsating dance music, and the arrival of Rome's fun-loving youth. The daylight hours are best for a walk through the pine wood of Castel Fusano, the "green lungs" of Italy's capital. This immense urban park, owned by the local aristocracy until 1933 when it became property of the city of Rome, extends over more than a thousand hectares of land.
The pine wood is the ideal place where to cycle, jog or play tennis and where to catch more than a fleeting glimpse of the animals which inhabit the park. Visitors to the park also have the opportunity to admire surviving sections of the ancient Roman road - the via Severiana.
Those wishing to see more than a few paving stones of the old Roman empire should head for the Archaeological Park of Ostia Antica, where to observe the remains of temples, piazzas, baths and public meeting places: all of which testify to the existence of an important settlement at the mouth of the river Tiber, thought to have had a population of some 50,000.
Ostia: suggestions from the hotels
Roberto Del Duce
(Direttore e Chef)
4 Star Hotels

Because of the sea ... a stone's throw from Rome. Because the area is rich with history, culture, art. Because the products of the sea and the earth are children of the tradition, genuine and authentic, delicious. (Hotel Alle Tamerici) →
Paolo Fortini
(Direttore)
4 Star Hotels

Visit the Castelli Romani area around Rome, pleasant places rich of History. Discover the old noble villas, the ruins of Tusculum, the lakes of Albano and Nemi. Enjoy the local food offer. Experience the hospitality of our "Hotel****" (Locanda dello Spuntino) →
Ostia: places to see in the area