Hotels to remember: Tivoli
Tivoli: introduction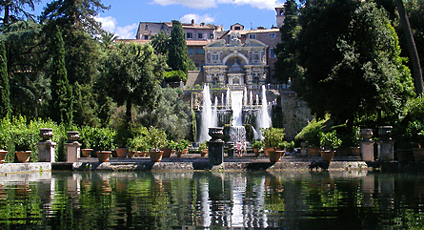 Two architectural masterpieces declared World Heritage Sites by UNESCO, Villa d'Este and Villa Adriana (Hadrian's Villa) are responsible for Tivoli's worldwide fame. Building work on the Villa Adriana commenced in 117 A.D. The villa was realised so as to provide a sumptuous imperial residence, far from the crowds and heat of Rome, for Emperor Hadrian. The ruins of this immense villa tell the story of both the emperor, who personally supervised its construction, and his court, and contains elements inspired by Greek, Asian, Egyptian and classical Roman architecture.
The other man to have left his mark on Tivoli was Cardinal Ippolito II d'Este, son of Lucrezia Borgia. It was he who commissioned the building of Villa d'Este and the property's magnificent 35,000sqm mannerist garden which, with its fifty fountains, constitutes one of Lazio's most important tourist attractions. The demolition of an entire quarter of Tivoli was necessary, so as to allow for its construction.
Villa d'Este is, in fact, situated right in the medieval center of Tivoli, next to the Church of Santa Maria Maggiore. Not far from here lies Piazza del Duomo, where to find the town's most important house of worship, the Duomo di Tivoli. Rebuilt in the 17th century, the cathedral stands side by side an ancient 12th century bell tower. Not to be missed: the Rocca Pia, built in the 15th century by Pope Pius II, so as to defend the city from attack.
Tivoli: suggestions from the hotels
Paolo Fortini
(Direttore)
4 Star Hotels

Visit the Castelli Romani area around Rome, pleasant places rich of History. Discover the old noble villas, the ruins of Tusculum, the lakes of Albano and Nemi. Enjoy the local food offer. Experience the hospitality of our "Hotel****" (Locanda dello Spuntino) →
More suggestions and useful addresses
Tivoli: places to see in the area