Hotels to remember: Cerveteri
Cerveteri: introduction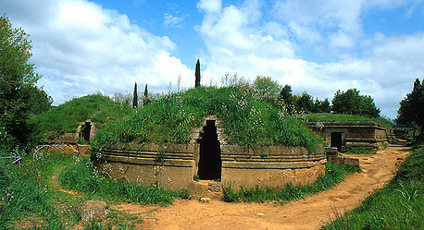 In the heart of Tuscia, on the slopes of the Tolfa mountains, Cerveteri has gained world-wide fame for its Etruscan burial grounds and, in particular, the Necropolis of Banditaccia, declared World Heritage Site in 2004 by UNESCO.
The Necropolis of Banditaccia, also known as the "city of the dead", was designed as if it were to be inhabited by living beings. From the principal thoroughfare of "Via degli Inferi", there are a number of secondary roads lined with dozens of circular burial mounds, dug in to the tuff. The interiors of the tombs are similar to those of an Etruscan house. The Tomba dei Rilievi (Tomb of the Reliefs, 3rd century BC) is by far the most decorative, its walls painted with images of domestic animals and various utensils for every day use.
It was in these tombs that many of the artefacts now displayed in the world's most important museums were found. An important collection of relics is conserved in the Cerite National Archaeological Museum, located in the 13th century castle which dominates the historic center of Cerveteri.
Facing on to the principal square of the town, Palazzo Ruspoli is one of the most important buildings in the medieval center, together with the Church of Santa Maria: built in the 1950's and which incorporates a section of a pre-existing Romanesque church. Just a few kilometers separate the center of town from the splendid beach of Marina of Cerveteri.
Cerveteri: suggestions from the hotels
Roberto Del Duce
(Direttore e Chef)
4 Star Hotels

Because of the sea ... a stone's throw from Rome. Because the area is rich with history, culture, art. Because the products of the sea and the earth are children of the tradition, genuine and authentic, delicious. (Hotel Alle Tamerici) →
Cerveteri: places to see in the area