The Inn at the Roman Forum
(Historical Residences) Roma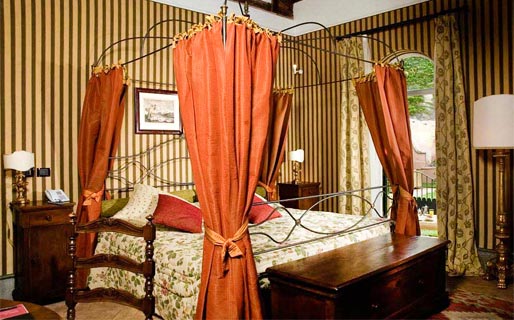 The Inn at the Roman Forum
+39 06 69190970
Three reasons why you'll love it here

A beautiful boutique hotel within steps of the Roman Forum
Breakfast in the roof garden overlooking the city of Rome
The Ancient Roman cryptoporticus, conserved within the hotel walls
It just was not enough to have already created two top notch boutique hotels with fabulous locations, now the Di Rienzo brothers have launched their latest delight, Inn at the Roman Forum. Zeroing in on two critical features, key location with views and ambience, the inn is not only just around the corner from the Roman Forum but literally has a piece of the forum within its premises.
The Inn at the Roman Forum lies on a quiet and picturesque back street. The peach-colored 15th-century building, once a private residence, has been transformed into an intimate, elegant accommodation full of very unique surprises. Enter the front doorway as would a resident Roman and meet your host in the reception living room. Continue to the back and turn back time as you enter a cave-like space complete with columns, statues and other artifacts of this section of the Trojan Roman marketplace.
Back to reality, the slick, classically styled bedrooms are distributed on the three upper floors with all modern amenities and cool soft tones of beige or grey. The next surprise comes as you enter the inviting top floor living room with fireplace, where breakfast is served either in or outside on the front rooftop terrace with superb glimpses over cupolas and tiled roofs to the Palatine hill. The final triumph of this awe-inspiring place are the three back bedrooms on this same floor which open out to a walled-in garden complete with grassy area, fig and palm trees.
The Inn at the Roman Forum will leave guests quite simply stunned by the property's beauty and the unique nature of its rooms, each with its own extremely individual style. Whilst staying at the Inn, clients have the occasion to admire the remains of the Roman cryptoporticus, conserved within the building walls. Last but not least, visitors also have the opportunity relax in the Palazzo's magnificent roof garden. Not simply a stay, but an experience.
The Inn at the Roman Forum
Via degli Ibernesi, 30

-

00185

Roma

(Roma)
Tel.

+39 06 69190970
Fax

+39 06 45438802
The Inn at the Roman Forum amenities
Outdoor facilities
Rooms
Rooms for families
Internet connection
Free Wi-fi
Air Conditioning
Minibar
Safety deposit box
Hair dryer
Bathroom with hydromassage bath
Room with fireplace
Food and drink
Various
Reception 24h
Laundry
Shuttle service (airport / city center / beach)